MUSTACHES & MULLETS CHARITY ADULT HOCKEY TOURNAMENT
NEXT: MM10
|

AUGUST 18-20, 2023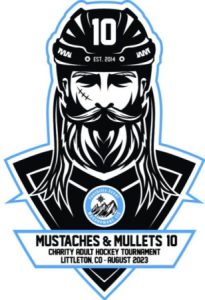 The 2022 Mustaches & Mullets 9 Charity Adult Hockey Tournament presented and managed by Foothills Event Management, LLC was held August 19-21, 2022 at the Edge Ice Arena in Littleton, Colorado supporting Disabled, Underprivileged & Veteran Athletes and their Families. Beneficiaries include Colorado Sled Hockey Association, Dawg Nation Hockey Foundation, Hockey Unlimited, Joint Forces Veterans Alliance and Lift the Mask.
There was Online Fundraising, Team Fundraising, Company Matching, a diverse Silent Auction and Drawings with great Prizes. To date, we have raised over $210,000 for many Local Beneficiaries through both of our Charity Events.
We had 32 Teams in 8 Divisions (something for every level of player), 3 Contests - Best in Grow (Mustache), Best in Flow (Mullet) & Best in Show (Combo) with Prizes plus Complimentary Beverages from a variety of Vendors. This Event will be a blast for both young and old and would not be possible without each of our fantastic Captains, dedicated Players on each of our Teams, great Sponsors, involved Beneficiaries, local Partners, diverse Vendors and many Contributors plus amazing Referees, Scorekeepers, Volunteers, Facility Staff and Event Staff. Your support for our grateful Beneficiaries is very much appreciated.
We also hope to see you on the ice for our annual Spring Event, the 2023 Quest 16 Charity Adult Hockey Tournament to be held April 28-30, 2023!
Lance Jaeger - Event Manager/Tournament Director - Foothills Event Management, LLC
Tournament Documentation
2023 Q16 & MM10 EVENT FLYER
SAMPLE 2022 BENEFICIARIES FLYER - CSHA, DNHF, HU, JFVA, LTM
SAMPLE 2022 WEEKEND EVENTS & PLAYER VALUE (w/ Individual & Group Recognition)
SAMPLE 2022 SCHEDULE (also on TeamSnap Tournaments App)
SAMPLE 2022 DIVISION STANDINGS & PLAYOFF BRACKETS (Live Updates on TeamSnap Tournaments App)
SAMPLE 2022 INFORMATION & RULES
SAMPLE 2022 DIVISION DEFINITIONS & GUIDELINES (No Ringers or Sandbaggers !!)
SAMPLE 2022 EVENT WAIVER & RELEASE OF LIABILITY CONSENT FORM
SAMPLE 2022 PARTICIPANT T-SHIRT DESIGN / SAMPLE 2022 CHAMPIONSHIP T-SHIRT DESIGN
Camping / RV's / Trailers
RV's & Trailers ALLOWED either behind the Edge Ice Arena in SW Parking Lot OR on the far perimeter of the NE Parking Lot
RV's & Trailers NOT ALLOWED anywhere in the NW Parking Lot between Edge Ice Arena & Ridge Recreation Center
Tents ALLOWED behind the Edge Ice Arena Only
DO NOT BLOCK FIRE LANE / EMERGENCY ACCESS
NO SMOKING, OPEN FIRES or CHARCOAL GRILLS
USE RESTROOMS INSIDE FACILITY
PICK UP ALL CANS & TRASH
Lodging (2022 PRICING - 2023 PRICING COMING SUMMER 2023)
Holiday Inn Express & Suites - Littleton
Room Block held until M 08/08/2022 (Subject to Availability after - GM Dinah Shaw)
$114.00 (+ $5.00 Tax) for either a Double Queen or Single King
$114.00 (+ $5.00 Tax) for King Suite (Single King plus Sofa Sleeper)
Hot Breakfast. Pool, Hot Tub & Grill Available.
Reservations: Call 855.729.6009 for Group MM9 or
Click Here for Online Reservations
EVENT INFORMATION
Mustaches & Mullets
Charity Adult Ice Hockey Tournament
Established: August 2014
Next: Mustaches & Mullets 10
August 18-20, 2023
Edge Ice Arena - Littleton, CO
Maximum of 32 Teams
Up to 8 Divisions
Coed - A, B-High, B-Low, C-High, C-Mid, C-Low, D-High, D-Low, O40
Women's - Mixed or Low & Mid
Men only allowed to play on 1 Team in 1 Coed Division. Always play up !!
Women allowed to play on 1 Coed Team & 1 Women's Team
Goaltenders allowed to play in Net on 1 Team & Skate Out on 1 Team
No Scheduling accommodations will be made for these Women or Goaltenders
21+ (18+ Only if Approved)
NO Ringers / NO Sandbaggers !
Men & Women always play up not down !
4 Games Total
1 Friday / 2 Saturday / 1 Sunday
$1,150* for Returning Quest 16 or MM9 Teams
$1,200 for Other Returning Teams
$1,250 for New Teams
*Only if $100 Returning Team Deposit is received via Venmo by June 16, 2023
Deposit is Non-Refundable
Deposit implies Captain is responsible for Team Participation, Full Payment and all Associated Fees Due
Captain can be Invoiced for Full Amount at any Time